PREMIUM MUSICTRACKS
Unlimited Music Library. Unlimited Downloads.
Unlimited Inspiration.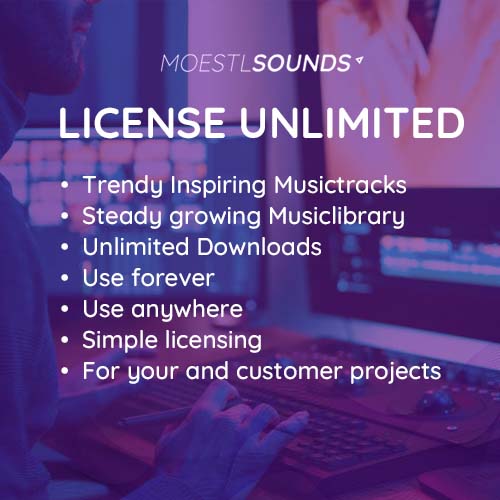 € 165.- once
or € 7,90 for 24 months
Pay and get access to all titles and the right to use the music forever
and get Lifetime Access
(price excluding VAT)
TRENDY INSPIRING MUSICTRACKS

STEADY GROWING MUSICLIBRARY

UNLIMITED INSPIRATION

UNLIMITED DOWNLOADS 

SIMPLE LICENSE

USE THE TITLES FOREVER &

 ANYWHERE

PAY ONCE ONLY € 165.-
PROFESSIONAL MUSIC
Highest quality Music for films and other projects and places. Easy find your perfect song.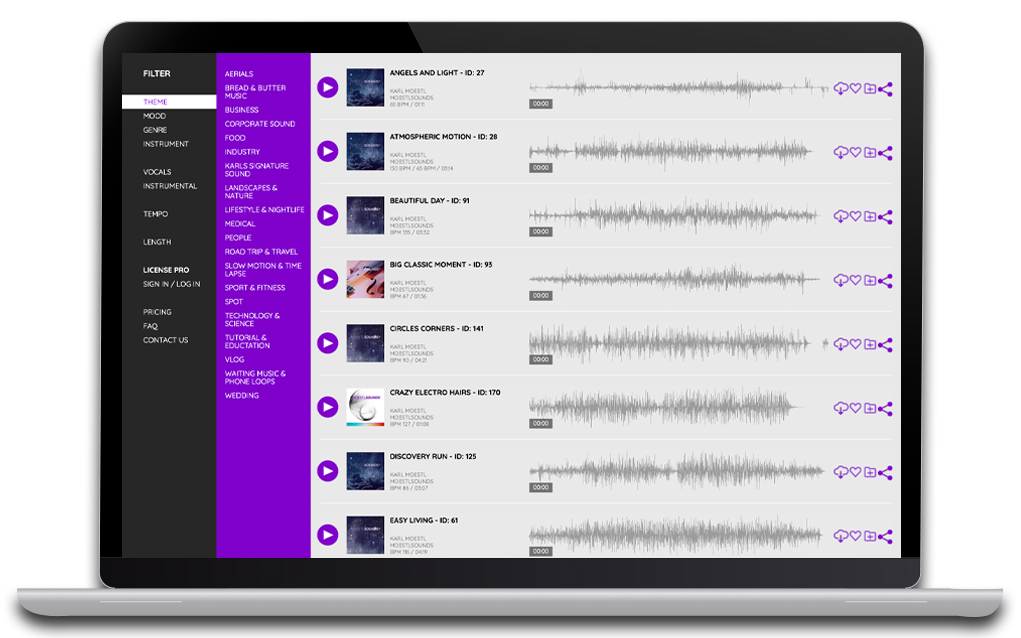 PREMIUM MUSICPACK
ROYALTY FREE MUSIC & SOUNDS FOR VIDEOS. UNLIMTED USE. USE FOREVER.
An all-in-one solution suitable for every purpose!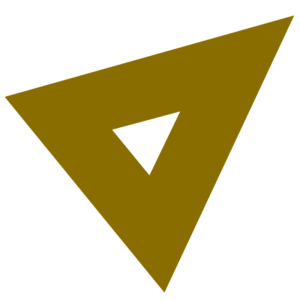 Music for 

videos, 

filmmakers, advertising, marketing, vlogs, social media marketing, phoneloops & more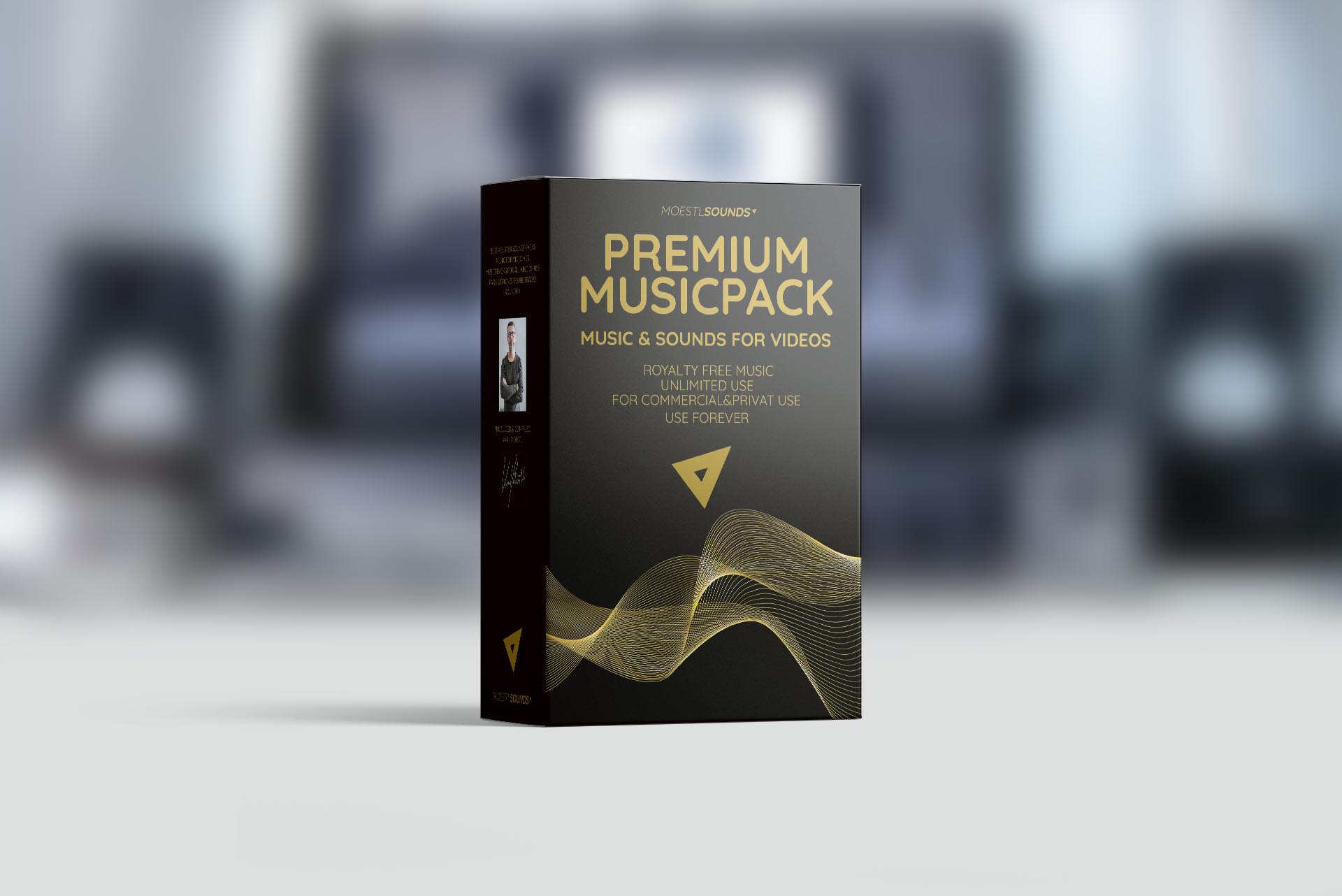 € 189.-
Get it now for € 89.-
price excluding VAT
PROFESSIONAL INSPIRING MUSICTRACKS

300 MUSICTRACKS & SOUND FX

PAY ONCE – USE FOREVER – ROYALTY FREE

UNLIMITED USE

USE ANYWHERE

SIMPLE LICENSE

BEST WAV QUALITY
Music for 

videomarketing, 

filmmakers, advertising, bloggers, social media marketing, phoneloops & more
An all-in-one solution suitable for every purpose!
Different styles, different genres, different moods, different kinds of music…
for online presentation today
 300 Musictracks & Sounds FX: 68 Musictracks for all kinds of use, 61 Musictracks for Ads & Short Clips, 20 Blockbuster Musictracks, 
41 Pads & Drones, 50 Boom Impacts, 50 Sound Impacts, 10 Rises&Sweeps. 
Just listen to some examples…
INSPIRING PRO MUSICTRACKS
Moestlsounds is a stock music site, that offers professional high quality royality free musictracks, with an unlimited licensing model. It is designed to make it simple, easy and profitable, with the best price on the market.
All musictracks are produced and compiled by Karl Moestl, one of austrian´s top Music Producer. He is a pioneer in electronic music since over 20 years. But also a very experienced producer for corporate music. He produced also alternative and indie music. Over 30 years in producing music and sounds for international brands, labels and companies. Nowadays he is running a recording studio and agency for online and video marketing.
SOME OF HIS CLIENTS…
FAQ –
What does my Purchase include?
Moestlsounds Musictracks + License allows you to use material any video production on any online and offline platform worldwide – forever. This license covers personal projects and even commercials. You can use it also in your customers projects.  
How long is my license valid? 
Any moestlsounds musictrack you download with a valid purchase (on digistore24) can be used in your films, advertising, phoneloops and others in perpetuity. Once you download the Premium Musicpack after your purchase, you're licensed to use it in your projects forever.  
If I purchase as a business, does my license cover my employees/collaborators?
If a business purchases the moestlsounds Premium Musicpack, then any of the employees may access and use the music in the company's projects. If an individual employee or contractor is working on a private project unrelated to the company, they would need to have their own license.
Does my purchase + license cover a client who hires me for his project?
This is ok. If you are working on a project for a client, your license covers them for their personal or commercial use of that specific project. The client may use the moestlsounds musictrack for a different project that is separate from the project you were hired for. In this case, your client should also purchase the moestlsounds premium musicpack by his own. 
Is the music royalty-free?
Yes, the musictracks on moestlsounds are royalty-free. If your video is intended for broadcast, don't worry. You are covered. The broadcasting company (TV channel, etc.) may be subject to additional royalties according to its standard local PRO agreement.

What means royalty Free?
The term "Royalty Free Music" is often misunderstood and equated to "GEMA-free". However, Royalty Free only means that the rights to use the music have been clarified in advance and that the customer does not incur any further follow-up costs on the part of the licensor. It does not automatically mean that the music is GEMA-free. The license costs for royalty free music are often comparatively cheap and the music can be used in several films. This is possible because rights holders receive additional income from the collecting society each time they use the music. Assuming that you used royalty-free music, the surprise is great when you suddenly receive an invoice from GEMA. Notes in the license terms of such providers, such as "Please note that our licenses do not include public performance rights" mean that the music is subject to GEMA.
Can I edit a moestlsounds musictrack?
To make it fit in your project – you can edit the track.
Do I need to credit "moestlsounds"
If it is possible, it would be nice. You dont have to.  
Who owns the musictracks?
All works included in pack and any services offered,  illustrations, graphics, and photos are protected by copyright and are the intellectual property rights of the website and/or other artists and producers.
Can I transfer my license?
No, no and No. I think the price is so friendly and easy to effort. Our customers are personal license holders of our musictrack, and that cannot be transferred. Your license does cover clients that hire you to produce a project. This is not a transfer of license as the client is not free to use the music or sounds apart from the production covered by your license.
Does my license cover audio broadcast outside of video production?
Yes. You also can use it in phoneloops or any offline platform.
TV/Radio broadcasters usually pay a fixed amount to a PRO for a license to broadcast shows with music. In this case, there is no additional cost for you, the producer. All you need to do is to fill out cue sheets.
Social network and video-sharing websites like Youtube, Facebook, Vimeo are responsible for any royalties due and already have performance licenses from the PRO in their country. There is no additional cost for you – unless you are the website operator.
 Is there a minimum age for using the site?
Yes. The site is designed for users 18 years of age and older.

Moestlsounds is a service licensing platform. We provide a highly curated selection of songs to filmmakers and creative industrie for use in privat or commercial projects. We love to offer good music to improve and support the work of the creative industrie and of course music lovers.